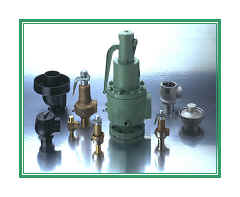 Welcome to Spence Safety Relief Valves Online!

Spence Engineering Company, Inc. is one of the industry's leading manufacturer's of quality safety and relief valves for industrial and commercial applications such as: steam boilers, pressure reducing stations, unfired steam pressure vessels and lines, air compressors, cookers, receivers, pneumatic systems and OEM equipment and much more.

Our Safety Relief Valves meet ASME Section I, IV & Section VIII, for steam, air, liquid and gas service and are "UV" National Board Certified. For technical information on Spence Safety Relief Valve, please view or download our Safety Relief Valve Electronic Catalog.

(Catalog Requires Acrobat Reader)

Why choose Spence safety and relief valves?

Spence Engineering set and tests all valves in accordance with the applicable ASME code and API-527. Most competitive valves do not meet API-527, leading to premature simmering and leakage causing system problems and premature valve failure.

Spence Engineering Safety and Relief Valves are designed and manufactured with a more rugged body/bonnet design than most competitive valves. This exceptionally rugged design withstands excessive piping strains that often lead to valve failure.